So, I'm going to Mexico at the end of June with my church to build a house. Since I am going, I need to renew / get a new Passport. Well, since I can still use my old passport to help the renewal process, I had to dig it out, and man was I young. This was back in 1998, and I was in 8th grade. I can still not get over how much I look like a baby in this picture.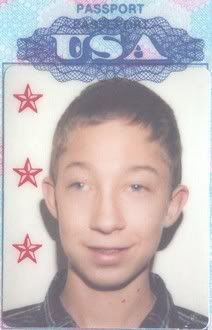 So, last night, Nita, Jon, Kara, Brain, Chris and I all went and saw "The Hitchhikers Guide to the Galaxy", which was a really great movie, and I think I might have to read the book now. I know some of you who have read the book, might disagree with me, but I liked it, and thought everything was well done. Also, I really hate to say this, but I think that was the first movie I have seen in a theater since "National Treasure", back at New Years in Columbus, Oh with my sister when I was up there visiting her.

Also, right now I'm in the middle of rebuilding one of the test servers. My idea did work, the only flaw was that the computer I setup to try it on ran out of hard disk space. I did not use the first test server I setup, because I did not want to loose the 6.0 install incase this did not work. So, yesterday afternoon I ran up to CompUSA, and got a new 160GB hard disk for the computer, and another 128 of RAM for it also. I really like working for a company that, if I need to pick something up, I can just run out and get it, and not have to worry about it. That is also why I like company accounts is I don't have to worry about how to pay for it also. Besides, CompUSA gives company accounts a good discount. So, right now its running the script to and in all the tables and everything that is needed for Wennsoft "Job Cost" & "Service Manger" to run. Once I get it going on the historical company's (cus it will take a few hours), I'm going to head out to lunch, and get my hair cut and grab something to eat.

This morning we had our monthly company breakfast and that was good. I do love working for CAC, they are a great bunch of people who really crack me up. Laura, who works in our front office, cracks me up a lot, and is also the mother of Brain, who went with us to see the movie, anyway, the sink got clogged cus she was trying to dispose of & clean the pot that had Red Chile in, and so I had to get the plunger out for her, and she made the comment that it look liked someone had there period in the sink. Well, lets just say the whole office was in stitches over the comment, and Carl was like, "That's it, I get to go home now, cus I did not need to hear that" lol. It was a great way to end a stressful week.

Well, that is it for now. Tonight I'm going to see the Isotopes (our local AAA baseball team) play cus its Lutheran night at the ballpark, so that should be lots of fun. Plus, I have heard that this year, we have really good seats, so that should be cool. I just hope they win, cus that would be awesome.

Peace,
Kevin

Also, I got the icon from
lil_soleil. So Liz, I hope you dont mind me using it, cus it is just great!