So, I guess this is a real life easter egg, as to be able to see this, you would have to be looking at Satellite pictures. So, I guess you have to be a real nerd to be looking at Satellite pictures of the New Mexico freeway system, but hell it has paid off for me.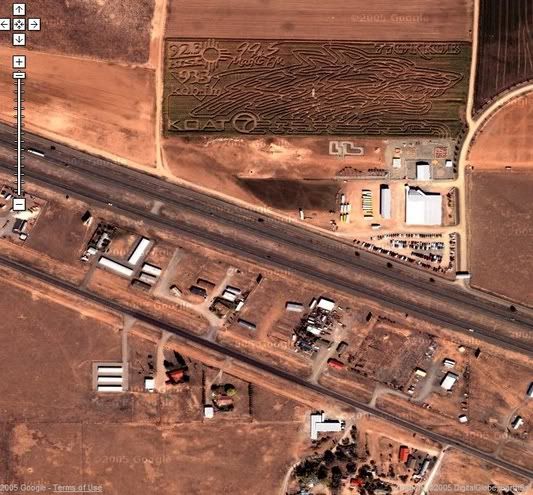 I found this using Google Maps (maps.google.com), Satellite Mapping option. This is a field on Interstate 40, east of Albuquerque, New Mexico. This is between Edgewood and Moriarty, but it's very close to the most western exit for Moriarty. This image has not been fixed / doctored or anything like that. This is just as it looked on their server. If there is no picture above, click the link below.

http://maps.google.com/maps?q=Edgewood,+New+Mexico&ll=35.018749,-106.080047&spn=0.004989,0.007693&t=k&hl=en

I must also say that who ever designed and created this is very good. It's almost as if the Advertising Aliens came down, and laid down an over priced crop circle.



Here is a enlarged picture of just the field.