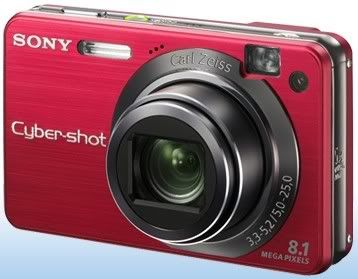 Today I broke down and bought a new digital camera, as my old one, a Kodak Z740, was just to big and bulky to easly carry around. As much as I love my Z740, it's just too damn big to carry around and use as a point & click camera.

So today after doing a large amount of research, I bought a Sony Cyber-shot DSC-W150/R. It's a 8.1 megapixel camera with a Carl Zeiss 5x Optical Zoom lens, 2.7" Clear Photo LCD display, Intelligent Scene Recognition, & Super SteadyShot. I paid 229.99 for the camera, which is a steal considering the MSRP for the camera was 249.99. They also make a 10.1mp version of this camera for 299.99, but I thought that was a little overboard for what I need.

The features that this camera has are nice for me. One that I am really looking forward to is the Super SteadyShot, as I seem to have some shaky ass hands when I try and take pictures. Also, one of the other nice things that makes this camera really nice is the Dynamic Range Optimization which basically takes really good pictures in difficult lighting conditions, with or without the need for a flash.

The camera is due in sometime next week (hey, I am not going to pay for fast shipping when I don't need it). Once the camera comes in and I get a chance to play around with it I will let you all know how it is. I think I am going to love this thing, which will be nice to have a camera that I do not dread to take with me somewhere.