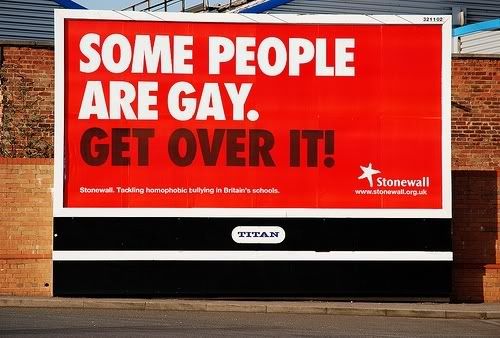 Link to Stonewall's website - Found via
gsa_lj.


I found this image on a group (
gsa_lj) I belong to here on LJ. The billboard is part of a campaign called "Education for All" by a UK group named Stonewall. These billboards, 600 in all, are up all across England, Scotland, and Wales.

I for one freaking love it! I think that it's smashingly brilliant and would love to see these along every interstate, freeway, and highway here in the States. I really want to put one of these babies's up in Topeka, KS, near everyone's favorite wacko, Fred Phelps, and his Westboro Baptist Church. That and I want to get one on I-25 in the north end of Colorado Springs, right near the Focus on the Family sign. LOL.

So come on, who is with me? Anyone want to split the cost of the billboard(s)? Anyone think Clear Channel Outdoor would donate the space to us?