WARNING! THIS POST MIGHT OFFEND PEOPLE, SO DO NOT SAY I DID NOT WARN YOU!
---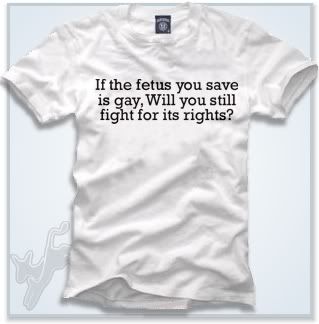 So speaking of political T-Shirts from my last post, in the middle of looking for the images I wanted to use, I found one that I think I might have to buy cus I love it just way too much.

The first time I saw this shirt I started laughing really hard. But in some very sick and twisted way this shirt does bring up a really good point and also speaks volumes about some of my political views. I really wonder what their (being James Dobson, Pat Robertson, Jerry Falwell, and Fred Phelps) answer would be to this shirt.

Well, strike that, I think I know what their answer(s) would be. They would just say that they could just "cure" the baby of his/her "gayness", which by the way is crock of lies and they are full of shit!

So I just thought I would share this with you all. If you made it this far and I did not piss you off, well damn, I really must try harder next time*. Kidding.

* God I love the USA. Not many places in the world that I can say this crap and not get killed for it.