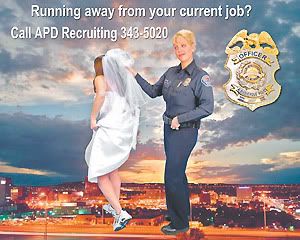 So I am sure you all remember Jennifer Wilbanks, the runaway bride who turrned up in New Mexico after claming she was taken hostage right before her wedding.

Well now its seems that the Albuquerque Police Department is using the runaway bride legacy in their new recruiting ad that will be displayed on digital billboards in the city for the next month or so. The image which shows Trish Hoffman, APD Spokeswoman, tugging on a woman in a wedding gown was on the front page today of the Albuquerque Journal.

This cracks me up. I laughed so hard this morning when I saw the picture that had I been drinking anything, it would have come out my nose. Also, must have been a slow news day for it to make the front page and as large as it did too.