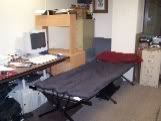 So since the server is doing its thing for a little bit, I thought I would take time to post about what's been going on in my life.

So this weekend is the big upgrade of our Dynamics / Great Plains server from version 7.5 to 9.0. Due to the schedule that the upgrade makes me keep, I have made the choice to sleep in my office (kid you not) this weekend to save on gas and commuting time between my apartment and the office.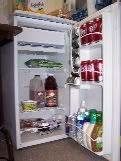 Also to keep my from leaving every hour to go looking for food, I today I went shopping and bought about 50 dollars worth of food for the office, so now my mini frig in the server room is stocked up.

Anyway the update officially starts at noon tomorrow when I kick all the users out of Great Plains. From there it's a lot of backing up, installing software and a shit load of praying. LOL. But really everything should go fine since I spent almost 2 months in testing.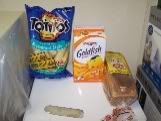 Part of me can not believe that the upgrade is tomorrow. In some respects I am kinda freaking out a little about it, only cus of how big this is and how much room there is to fuck it up. This one server is what our whole company runs on (not kidding). This server does our payroll, A/P (Accounts Payable), A/R (Accounts Receivables), our dispatching, and almost anything else you can think of.

So this week has been freaking crazy busy. I think as of me writing this, I have about 37 hours for the week. Now since it's late on Thursday, I should normally have around 30 to 32 hours for the week and the upgrade has not even started yet. I think I have estimated that I will have somewhere around 60 to 80 hours for the week. My guess is right around 70 hours or so, but only time will tell.

Now with all this working is not to say that I have not gotten out of the office at all this week. Yesterday I went and got lunch at Sonic and when I had finished eating I still have 45mins or so left in my lunch break, so I took off driving west on I-40 and ended up out at the Rio Puerco area (west of Albuquerque by like 15 to 20 miles) and besides a casino and a very cool old bridge that is part of the old route 66. It was a quick little trip, but it was nice to just get out of the office and get out of the city for a bit. I guess it was a little treat of the feast to come next weekend.

Next weekend I am going up to Estes Park, CO (Northwest of Denver) to help out at the Rocky Mt. Synod Senior High Youth Gathering. It's going to be a freaking blast. This is like my 7 or 8 SHYG and my 4 or 5 helping out. I must say it is one of the highlights every year. So it will be nice to get out of town and out on the open road (it's like an 8 hour drive) and I must say going thru Northern NM and CO is a great drive.

In two weeks is Thanksgiving, and I can not believe that it's already thanksgiving. I mean, damn, it was just summer last week right? LOL. Then after thanksgiving its only one month until Christmas, which mean I am flying backup to Cleveland to see Kate and spend Christmas with here and the parents (who are also flying up from Albuquerque).

So I think that is all for now. If you do not hear from me in the next 3 to 4 days, just assume everything went well and I am at home resting with a big ass overtime check. LOL.