Today I have been very very very freaking lazy and it has felt great. The closest I got today to getting dressed was to put my bath-robe on. I have not even left the apartment all day, which means I did not go see any of the movies I was talking about on my last post.

When I woke up at 10am, I was still very tired. So I watched a few hours of TV, and then went back to bed for a few hours. Woke up in time to catch the 4th quarter of the USC game (which we won), and then cooked dinner.

So after the USC game I watched "Exit Wounds" and as much as it pains me to say it, I like a movie with "Steven Seagal" in it. LOL. "Exit Wounds" got over a little past 10:30, so I flipped over to NBC, and watch Saturday Night Live (SNL).

I am not sure where to start. I think it's gotten better since Tina Fey left the show (she was head writer), but I do not think its quite back to where it should be. There were parts that made me laugh, and then there were parts that put me to sleep, but all in all, I think its getting better.

So after SNL, I was flipping thru the channels and saw that "South Park: Bigger, Longer, & Uncut" was on. I love that movie, love it, love it, love it.

This one part, the military is using a 3D-map, and it stops working. You hear the General say "Fucking Windows 98, get Bill Gates in here!" (Which also shows how old this is). So below is that video clip, just cus it makes me laugh. Anyone who has ever used a Windows Product will love this clip. (A word of warning: This clip is not edited for anything, so it really has some choice language. If you do not like that, then do not watch the clip. Come on, its South Park, did I even really need to say that?)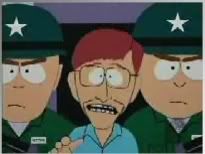 (Click the picture to see the video clip)
(Alt link: http://smg.photobucket.com/albums/v224/Claystorm/Video/?action=view&current=SouthPark-BiggerLongerUncut-Windows.flv)



Also, how in the heck is it already October? I mean, where did September go? That's ok, I like October in New Mexico. It starts getting cold and plus in one week it's The Albuquerque International Balloon Fiesta. That means crewing again. I love it. I think this is my 4th year of crewing, and I still love it. If you ever get the chance to crew for a Hot Air Balloon, do it. I got my first Hot Air Balloon Ride (Pictures Here) last year, and it was amazing. Just really amazing.

For those of you who do not live around here, or have never made it down for the Balloon Fiesta, you really should. The Balloon Fiesta is largest ballooning event on the earth with around 800 registered Hot Air Balloons. It is also the most photographed event on the earth too, and is the largest annual international event in North America. I must say that I am truly blessed to have grown up here in Albuquerque with the Balloon Fiesta.

So that is all for now. All in all this has been a nice lazy day, and I hope tomorrow is much of the same, as I get to jump back in to all the hell and stuff on Monday.