So, a trip to target and 20 dollars later, I was wraping 20ft of garland around the fence. Then I took the lights, and wraped that around the garland. I am pretty happy with the outcome. I still might get more garland, but I am not sure yet. I will figure that out in a few days.
Here is the finished project (so far). Martha Stewart eat your heart out, lol: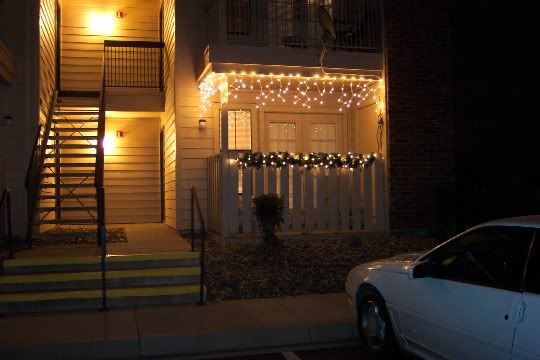 So, tonight I finaly got around to getting the lights up on the outside of my apartment. Last year, all I did was put up some ice icicle on my patio. Well, this year, I wanted to do a little more, so I was also going to put lights around my fence goes around my patio. Well, when I got the lights up on the fence, it looked werid.
Current Mood:

excited

Current Music:

Camp Soundtrack - Century Plant